About Mauri Schwartz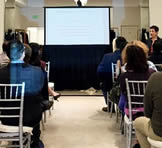 Mauri Schwartz, President of Career Insiders, is a leading figure in the San Francisco Bay Area career management community. Working with companies that need outplacement services as well as with individual job seekers, she has an outstanding success rate in helping clients achieve their career goals.
Mauri is a frequent speaker at professional conferences, job fairs, and student career panels, and she serves as Adjunct Advisor of Career Services at the Haas School of Business, University of California, Berkeley. She has also worked with students and staff at Mills College's Lorry I. Lokey Graduate School of Business, Tulane University, University of San Francisco, Golden Gate University, San Francisco State University and the University of California, Santa Cruz.
Mauri has a rare combination among career consultants - highly technical experience with an MBA education. Having held many of the technical positions of her clients, she knows exactly how to help them be successful in making their next career move.
In addition, with her wide range of business expertise, she has been able to assist executives in diverse industries to advance their careers.
Mauri's motivational style uses techniques that combine old fashioned interpersonal relationship building skills with the latest technological tools.
She is a professional "people person" with the ability to engage an audience and build a relationship based on many years of professional experience. Her talents lie in her attention to the details of every aspect of the relationship.
Prior to founding Career Insiders, she successfully recruited and established recruitment departments for a diverse client base, ranging from start-ups to Fortune 100 companies in financial services, biotechnology, software, IT consulting, and other industries. Previously, Mauri enjoyed a successful high tech career with such companies as IBM and McKesson. In her early days as a technical professional, she developed software for the US Navy's SSBN submarines.
Further highlighting her skills as presenter and coach and reflecting Career Insiders' philosophy of "giving back", Mauri has a strong history of community involvement and has served in leadership roles with numerous San Francisco community boards and commissions, including the Board-Haas Alumni Network-San Francisco Chapter, San Francisco Board of Permit Appeals, San Francisco Citizens Committee on Community Development, San Francisco Chamber of Commerce Small Business Advisory Council, UCSF-Mount Zion Medical Center Auxiliary Board of Directors (merged with UCSF Medical Center Auxiliary), and Regional Cancer Foundation Board of Directors. In her "spare time," she has volunteered as a reading tutor at Daniel Webster Elementary School in the Potrero Hill neighborhood of San Francisco. "It's time to focus attention on our leaders of the future."
Mauri received an MBA from the Haas School of Business, University of California, Berkeley, and a BS in Mathematics from Tulane University. She believes much education comes from experience. "Customer service," she says, "became second nature to me working for so many years in my family's retail clothing business."